Fantastic Beats and Where to Find Them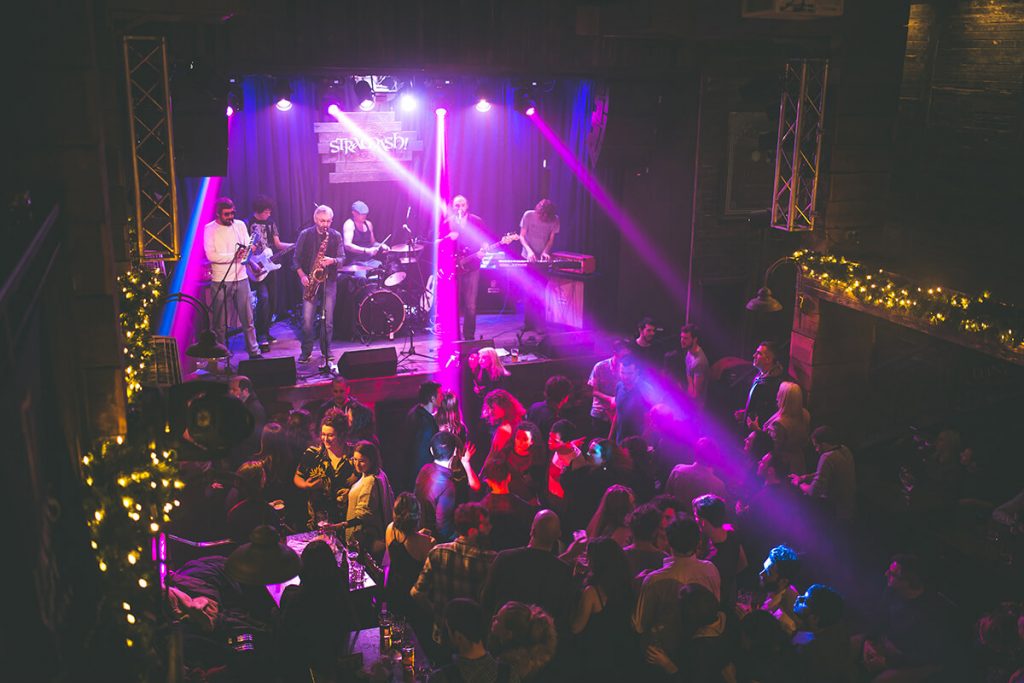 If visiting Castles, climbing dormant volcanoes, and watching kilted bagpipers just doesn't do it for you, then let it be Edinburgh's vibrant and diverse music scene that convinces you to come and visit us, and enjoy one of the best hubs for music enthusiasts of any genre!
From traditional cozy folk settings to headbanging heavy metal shows, and up-and-coming talent showcasing their art in smaller gigs and open mics, the city holds something for everyone. Edinburgh also attracts some of the biggest names in the music industry, with Beyonce, Harry Styles, and Bruce Springsteen among the notorious artists performing this spring alone.
As part of the Princes Street Hostel team, exploring and hearing about our guests' experiences is one of the perks of the job. Our time in this enchanting music-filled city allows us to give some of the best suggestions on where to listen to your favorite bangers or discover something new for your ears. With the team's diverse tastes, we feel well-equipped to provide a well-rounded overview of what the city has to offer. Be it to modern pop or old-time bag-pipping, small intimate venues, or large concert arenas, we've got you covered. So whether you're a seasoned music enthusiast or just looking to explore Edinburgh's vibrant music scene, our team is here to help you find the perfect spot to enjoy some tunes. Here are five of our favorites, so that you can start planning your musical journey ahead of time!
Stramash
Located in the heart of the city, Stramash is best known for its lively atmosphere and eclectic music offerings. With free entry on most nights, the venue offers a great experience and the chance to listen to cracking live bands without leaving a hole in your pocket. Whether you want to dress up for a night out or keep it casual, it's Stramash's "everyone is welcome" vibe that draws people in. With a vast dance floor, the venue is located in a converted church, adding to its unique charm and is the perfect place to let loose and have some fun. Alternatively, if you prefer a more sophisticated drinking experience, you can sit and enjoy the music while sipping on your favorite cocktail. Whatever your preference, Stramash is a must-visit spot for anyone looking for a good time in Edinburgh and is one of our team's absolute go-to's.
Whistlebinkies
If you find yourself looking for a lively and welcoming place to showcase your talents or just enjoy some great music, Whistlebinkies is the place to go. This popular bar and music venue has become well-known for its open mic nights on Mondays, with a fair few of our more musically inclined guests showcasing their talents there in the past, and its diverse range of gigs throughout the week. With a lively buzz and a warm atmosphere, Whistlebinkies is a great place to meet people from all walks of life and experience the diverse range of musical styles on offer. With free entry on weekdays and a small fee on weekends, there is no excuse not to experience the lively atmosphere as you sample some of the finest spirits in Edinburgh. You never know what you're going to get at Whistlebinkies, but one thing is for sure - you're guaranteed a great night out!
The Royal Oak
If you're looking for a cozy nook or something a bit more snug, the Royal Oak Pub is the place to go. A true representation of the core values that make up the city's lifestyle, its friendly and folk-themed vibe captures the essence of Scottish culture. The pub is a melting pot of all different kinds of people, from locals to tourists, who come together to enjoy the live music and gigs or showcase their talents on one of the open mics. Visitors can indulge in the famous ales and spirits while immersing themselves in the local atmosphere. The Royal Oak is more than just a place to grab a drink; it is a hub for the community, a place to connect and embrace the diversity that Edinburgh has to offer.
Bannerman's Bar
Bannerman's Bar in Edinburgh is a true haven for metalheads and rock enthusiasts alike. This unique venue is located in the Old Town's historic vaults, which adds to its distinct atmosphere. Bannerman's is known for putting on gigs with artists covering the rock/metal spectrum, making it a go-to spot for those looking to catch some of the best rock gigs in the city. Additionally, the bar even hosts open mics for those brave enough to live out their rockstar dreams. This welcoming and inclusive environment makes Bannerman's the perfect place to meet like-minded people who share a love for all things rock and metal. Whether you're a seasoned gig-goer or just looking to experience something new, Bannerman's is a must-visit destination for anyone wanting to experience the city's more dissenting streak.
The Banshee Labyrinth
The Banshee Labyrinth is known to be one of the most haunted pubs in the city and is steeped in history and legend. Stretching out over several floors of the infamous underground vaults, the pub boasts three bars and a variety of spooky-themed rooms. Offering free entry on most nights to an array of quirky events or gigs, the Banshee Labyrinth is a unique and atmospheric place to grab a drink or catch a show in Edinburgh.